Henry has a very busy social life at the moment with quite a few of his little friends celebrating their very first birthdays so I've had great fun trying to buy them all interesting and hopefully enjoyable presents that their mummies and daddies will appreciate too! On my travels I came along some great little things so I've compiled a list of my top ten birthday gifts for 1 year olds that don't break the bank. I've tried to keep it gender neutral too-I don't believe in girls toys or boys toys and at the age of 1, I'm pretty sure they don't either!
1. Geometric Stacker
I'm a huge fan of wooden toys as I think sometimes they can be a lot more hard wearing then their plastic counterparts. I spotted this Wooden Geometric Stacker
and thought it was lovely! It has nice bright colours, and with three activities for little hands will hopefully provide at least a few minutes of amusement as they figure which order they should go in. It's priced 6.99 + postage.
2. Bright books
I love these bright touchy-feely playbooks
by Usborne, Henry has the lift the flap version and squeals everytime we read it. The pictures are bright and interesting and he loves lifting up the flaps to see what's hiding underneath. They also have a good range of touchy feely textures for little fingers to explore and study. You can find them on amazon for little more then £5; I did pick up the version that explores colours
in Sainsbury's the other week for a little less though! There's also the animal version
which we must get!
Melissa and Doug have some fantastic wooden toys and I picked this chunky jigsaw puzzle in The Entertainer for £8, although they are slightly cheaper at Amazon
. They do a range of these chunky jigsaws including the farm, dinosaurs, insects, construction, safari and pets! I also like the fact as well as figuring out where the shapes belong, the jigsaw pieces are thick enough to free stand for more imaginative play.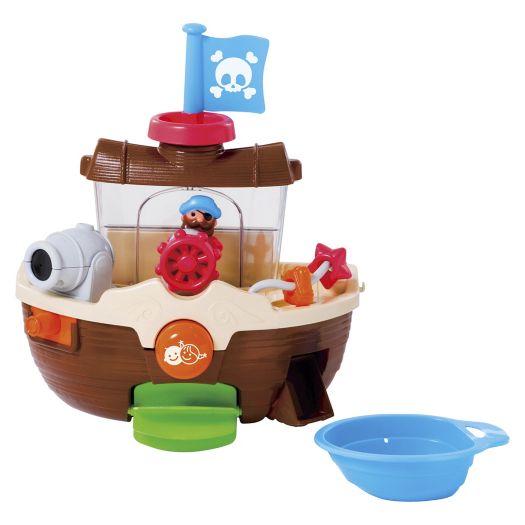 This bath toy is lovely for little girls and boys alike and is suitable from 6 months. We actually bought this for Henry for Christmas and he really enjoys it(or did before he started having melt downs at bath time). The suckers actually stay stuck to the bath too! The canon fires water and Pirate Pete moves from side to side. when you turn the wheel. You can fill up the tank behind him with water and let the water run out the bottom or press one of the orange buttons to keep it in. There's also an over flow bucket which tips up every now and then. Great fun! Usually £9.99 from Sainsburys but they often have toys on offer and I thing we got this for £6.99 so keep your eyes peeled.
This Wooden Click Clack Dino
is from the Early Learning Centre via Amazon (£10) and perfect for those little ones who are toddling about. Something I've definitely got my eye on for Henry. It helps with hand eye co-ordination and rattles as he's pulled along.
Another wooden toy, but I couldn't resist this bright, colourful and educational Wooden Counting Number Stacker from Amazon
-I've actually just ordered one for Henry because at £4.45+ postage it's a bargain!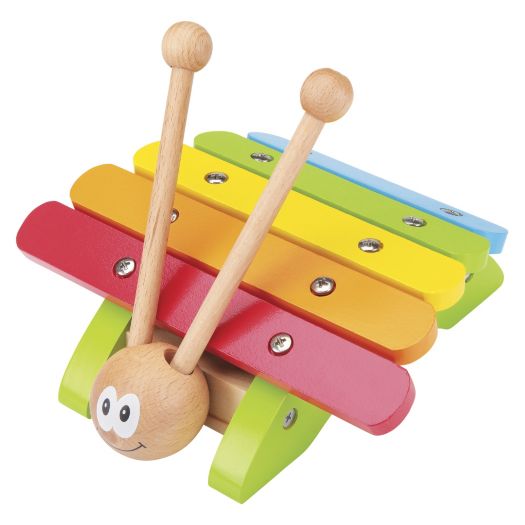 Another toy from Sainsbury's that has been a hit with H. He loves hitting Sammy the Snail and hearing the range of different sounds, this bright Bright coloured and with a fun and innovative design it's only £6.99 and makes a lovely present. In fact we have several musical toys, ranging from jingle bells
to a tambourine
and maracas
and most are under the £10 budget!
What better then giving some messy play items? The crayons are suitable for small hands being chunky, and although playdough and paints aren't recommended till 24 months and three years I know at baby groups, nurseries and childminders that the children love getting stuck in and messy. I think as long as they're supervised they'll be fine and lots of fun as baby grows up. The playdough is £4.49, the crayola washable paints are £4.99
and the jumbo crayons are £3.99!

These make really nice presents as they get the main character as a soft toy to cuddle with whilst you read. Hugless Douglas by David Melling is a really lovely children's story and the cute little bear is a bonus. I picked this up in Tesco as part of a birthday present as it was on sale. I think they've sold out now, but I there are some on eBay for £7.77.
Perfect for toddlers meals-I bought Henry a Cath Kidston one for £6 and it's lovely to divide his food up into sections and I can see he's getting a balanced meal. It encourages them to eat more too as they uncover the pictures beneath. I really like this Elmer tray which is £10 from Amazon
, but there are quite a few on there to choose from.
What's been your top toys for 1 year olds?